Supportive. Genuine. Warm. These are the three words that Registered Manager for our Leeds sites, Richard Carroll, used to describe Active Pathways. Although relatively new to our team, he's hit the ground running with developing our new services and supporting the teams across the region.
With vast experience in mental health care across the board, Ric has brought in a wealth of expertise along with an inherent understanding of our values.
Here, he discusses his career in care and recent move into the Active Pathways team.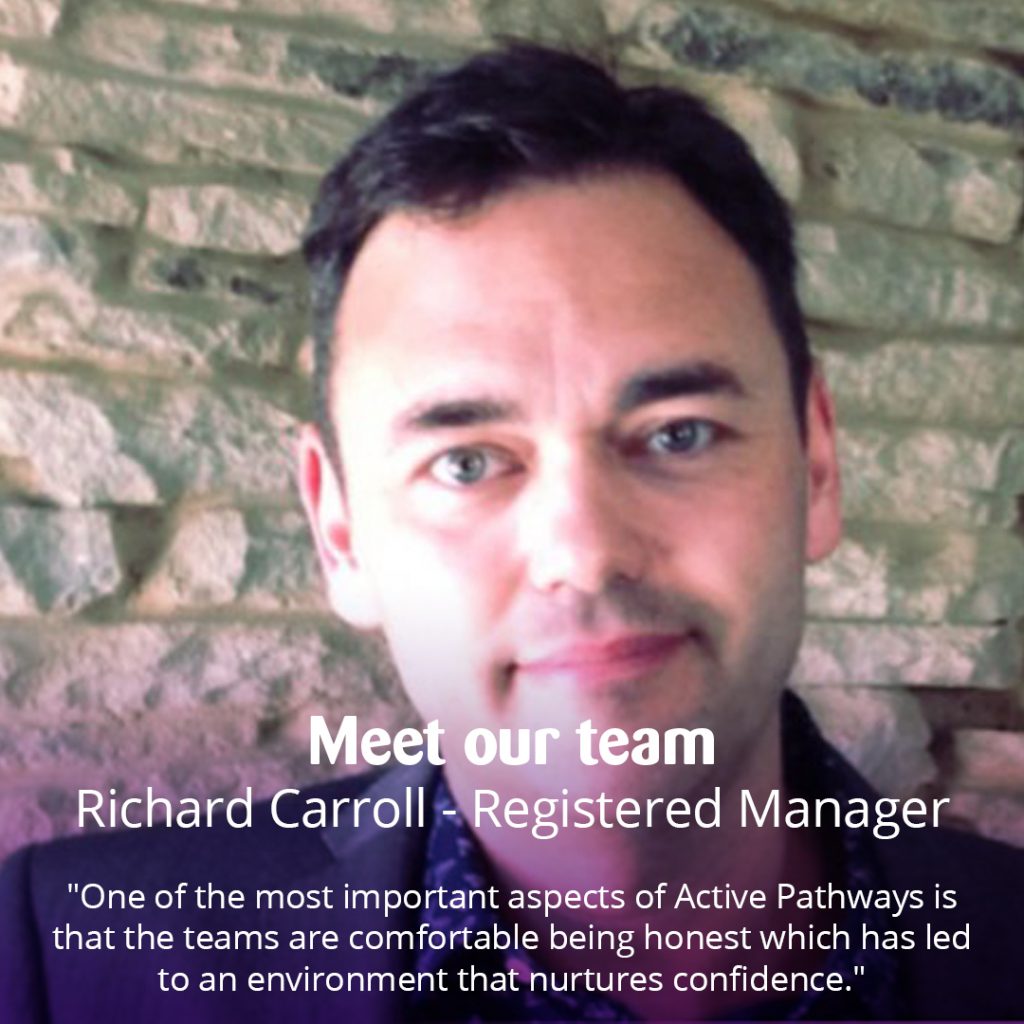 Can you give us an insight into your career in care?
Care was never actually my first choice; in my family the men are engineers and the women are nurses. As soon as I finished school aged 18, I was set to join the Navy as an engineer, but after spending three weeks on a submarine it dawned on me that I didn't want that career.
I always had an interest in mental health, which was sparked by my mother's work in maternal mental health. So, I decided to break the 'traditional' family mould and study care. After graduating as a mental health nurse, I have covered a huge variety of roles across the NHS, working as a service manager, clinical manager, and I'm trained as a Psychotherapist. Although I loved being able to play my part in designing new service models when I worked for the NHS – as the health service was going through a great deal of transformation at the time – I missed having direct contact with patients, which is ultimately what led me towards Active Pathways.
I joined Active Pathways in December 2020 as a Registered Manager for the Leeds sites. I've been brought in on the service development side, where my main focus is to support the teams by embedding key processes.
Can you tell us more about your role here at Active Pathways?
The main focus of my role here is to be involved with service development.
The teams across the Leeds services have so much energy for the work they do, I help them focus that energy into where it needs to be. Our support workers have such a diverse mix of experience from previous roles, I just help them tease out new skills so they are developing all the time.
We're very much recovery-focused here, and I'll always work to maintain this culture.
What I love most about my role with Active Pathways is that it's given me the opportunity to be patient-facing again. For years I've hardly had any interaction with service users or their families, I'm enjoying having that aspect of my role back and it's something I hope to see continue throughout this next stage in my career here.
What is rewarding about working for Active Pathways?
Overall, I find the learning culture here incredibly rewarding. People come here and develop skill sets rather than stagnating. The values are deeply embedded in the culture also, allowing the staff to always get the most out of their job. One of the most important aspects of Active Pathways is that the teams are comfortable being honest which has led to an environment that nurtures confidence.
However, if I was to look at one standalone career highlight while working here, it would be a patient we took in just after Christmas. The patient was an intravenous drug user, who had an unplanned discharge from hospital. With the timing being off around the Christmas period he had pretty much discharged himself. Without a formal step-down process, he was left in emergency accommodation (which isn't the best environment for these patients), we agreed to take him straight away, but the process takes around six weeks to be finalised. When he came to us, he was in a bad way, the staff were incredibly supportive and helped him with medication. Within two weeks he was showing good signs of improvement, and now he's properly back on his feet and has kept off the substances. Proper structure helped him get there and his recovery has been incredibly rewarding to watch.
Richard has already made great progress at Active Pathways, his role means the services are always working to the most up-to-date models, and teams are continually developing new skills.
If you'd like to read more about life at Active Pathways, head to other team profiles:
Katie Pilkington, Assistant Director
Claire Sehari, Registered Manager
Victor Kashiri, Deputy Manager
Sam Haigh, Unit Manager – Park Place
Want to work at Active Pathways?
Take a look at our latest jobs page to find out more!