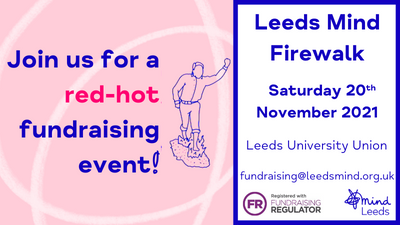 One in six adults experienced some form of depression in summer 2021, compared with one in ten before the pandemic according to the Office of National Statistics and many of this number are experiencing a mental health difficulty for the first time. The nation's mental health has been heavily impacted by Covid and the associated implications of lockdown, bereavement, devastating levels of loss and now financial hardship.
In order to fight for better mental health, local charity Leeds Mind is hosting a brand-new fundraising event, giving its supporters the opportunity to put mind over matter and walk barefoot across a bed of red-hot embers.
Myriam Barker, Fundraising Team Leader at Leeds Mind said, "I walked on hot coals a few years ago with UK Firewalk. I'm really proud to say that I completed the challenge, but what I remember the most, was the one-hour training with Scott and his team, that not only reassured me the event was safe, but showed me through stories and simple exercises that when you believe in yourself, you can achieve anything. I found it such a valuable lesson, not only on a personal level, but also as a team building exercise to share with the colleagues I was with."
"After such a long period of not being able to do events through the pandemic, it's great to get back to giving people fun experiences that they can take on while raising money for better mental health for all in and around Leeds, at a time when our support is needed more than ever.''
Lisa Mullineux from Active Pathways and Amanda Jayne-Brown from Greater Manchester Mental Health, have told us why they are taking on the challenge: "The last year has been harder than most for the ever-increasing number of people who suffer from mental ill health. Sadly, many more people have experienced mental health issues as a result of the pandemic and the isolation from our normal lives. It's not ok, if we can reach out to just one person with this challenge it's worth it, if you're struggling, please don't suffer in silence. There is help out there.''
Anyone aged 12+ can sign up to take part in the event being held 20th November 2021, at Leeds University Union, Lifton Place.
On the day, training will be provided from UK Firewalk, one of the UK's leading firewalk companies. Then, participants will step-up to take on the challenge one-by-one!
Participants will also receive a certificate of completion, a Leeds Mind t-shirt and support through their fundraising journey from one of our expert fundraisers. To reserve your place, please contact fundraising@leedsmind.org.uk. There is a £15 booking fee, and we will be grateful for any sponsorship our supporters will get by taking part in the event.
Event registration will open at 5:30pm, with training commencing at 6pm.
If you're feeling stressed or struggling, reach out and speak to someone.
If you'd like more information, or need to speak to someone, Mind have some excellent resources about stress and some useful contacts: www.mind.org.uk/information-support/types-of-mental-health-problems/stress/what-is-stress/