Hi, my name is Michael. I have diagnosis of treatment resistant Paranoid Schizophrenia and I have been residing on The Hamptons for 5 months now.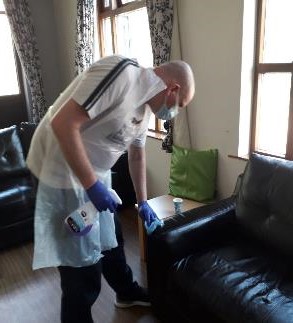 Background
I started experiencing psychotic symptoms when I was 20 years old. I was afraid people were coming for me and thinking they would break into my house. I would hide my car and put things behind my door at night. Before this I had gone to college for two years and completed courses on joinery and building work. This was a struggle for me as I'm dyslexic and this affects my confidence to learn.
Things got gradually worse and I started smoking cannabis which made me more paranoid and worried. Around this time my contact with mental health services started and since then I have had many ups and downs in my journey. I am the most settled I have been for some time and feel happy about my progress.
I was admitted to The Hamptons in November 2020 and I have remained settled and feel the best I have for some time. In my previous rehabilitation placement, I was very unsettled and could not focus on my recovery. Here I have managed to turn a corner and remain stable.
My time at The Hamptons
I have been wanting to make positive changes for some time but found this difficult to do because I have felt its been so long trying. The staff at The Hamptons have supported me to build up my routine and develop goals for recovery.
I think the staff at The Hamptons are supportive, helpful and friendly. I feel the location has allowed me time to keep away from negative influences. During this time I have abstained from substance use and feel healthy and strong. I also know my mum does not worry about me like she did during my last admission where things were very unsettled and chaotic. I have developed my life skills again and I am now on the self catering programme with some access to the unit kitchens. I have a therapy job cleaning the unit shared space which I take pride in which I receive a weekly wage for – this has helped me to budget and see the benefits of working again.
This placement has helped me see I have good skills and allowed me to think about things in a different way. I have reflected on the things I am good at rather than the things I don't always get right and this has helped my self-esteem and confidence.
I do see how much better I am and my mum also feels better seeing me well and this means a lot to me as I really appreciate her support and love. I feel safe, secure and stable which is something I have struggled to achieve over the years.
How the pandemic has affected me and my mental health
During the pandemic the hardest thing was missing my mum and dad as their contact and support means a lot to me. There were times my job was on hold due to safety and infection control issues. This did have an impact on my routine as leave was also limited due to COVID. Overall, the staff kept us informed and up-to-date with any changes so we understood what was going on.
My future plans
I haven't got any fixed ideas on what I would like to do next. I feel it's been too long out of work to try and do this, although my OT Dominique says "its never too late".
OT Dominique is running discharge and moving on sessions to explore next steps and options for the future. This is something I am currently thinking of joining as I feel this will help me plan for a successful and positive move to the community. For now I am happy working on staying well and working on my plans and life skills.
If you'd like further information, please get in touch by emailing us at enquiries@active-pathways.com or calling us 01772 646650.