Park Place
Park Place is a purpose-built supported living development comprising of 11 2 bedroomed apartments. Each apartment is of a high standard and is fully furnished: all residents need to do is move in!
We have a staff apartment with a communal space where the staff are on hand 24 hours a day should residents have questions regarding their welfare, any other support needs – or simply would like to drop in for a chat.
Our Model
Service users and residents are at the heart of our person centred recovery-based model.
We will endeavour to provide the impetus that supports and builds on each person's aspirations and objectives.  We focus on supporting everyone to achieve the best they can by empowering them to build relationships, networks and maintain their well-being. We recognise that everyone is unique and different, that they have their own individual set of needs which we will support throughout their pathway to a brighter future. We aim to do this by providing the stabilising and enabling support that brings about sustainability that encourages their recovery whilst remaining healthy and safe.
What do we offer?
Staff are available 24hrs day to assist individuals identified as requiring additional support. This ranges from those needing to learn the skills necessary to live independently, perhaps following a period of hospital admission, to those more vulnerable service users with more complex needs.
We offer a core of 20 hours per week support to each service user with additional support hours provided as agreed in partnership with their social worker. In our experience, the average length of stay at Park Place is 18 months-to-2 years; residents by then are ideally in a position to be more fully integrated into the community, in their own home in the wider community.
Active Pathways Clinical Pathway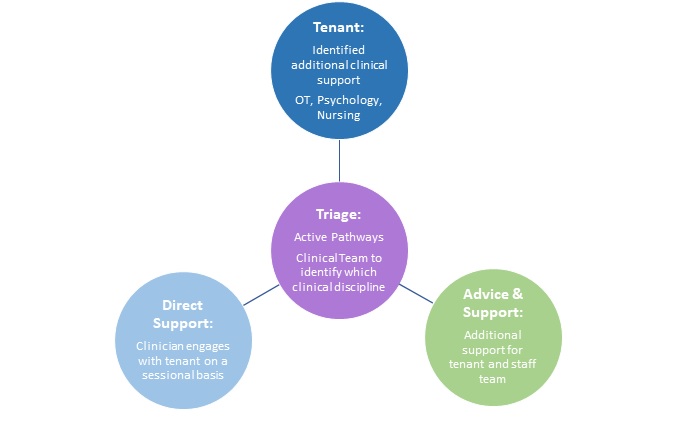 Our new service: Millcroft
We have now opened a brand-new, purpose-built step-down residential rehabilitation service located in Seacroft for adult males who have been identified as suitable for this level of shared care, or who may have experienced a breakdown in their existing placement.
Take a look
Testimonial
Transforming Care Programme is high on all commissioners agenda's and rightly so, we know that long stays in hospital have an impact on people's ability to be independent. With this in mind Leeds have been working closely with the care and support provider Active Pathways developing a new service model that can support people safely whom have been in hospital for a number of years. The mobilisation of the new service at Park Place Seacroft Leeds has helped to achieve safe discharges from hospital.

Active Pathways work with each person and their family/carers to develop a positive relationship in order to achieve each person's potential. Active Pathways will support the person to develop existing skills and new ones to be explored, therefore maximising choice and control.

Building services in the local community enables people to get the support they need in the city where they live. Park Place provides a safe and positive environment for a number of individuals whom have had long stays in hospital settings. We want to enable people to grow and flourish and will continue to work on further developments with Active Pathways to enable more individuals to have this opportunity of supported living